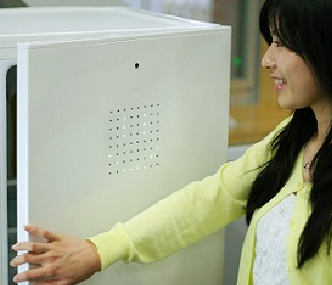 ソニーCSLで研究している情報家電『ハピネスカウンター』が、公益財団法人日本デザイン振興会が主催する「2012年度グッドデザイン賞」を受賞いたしました。
『ハピネスカウンター』は日常生活の中で積極的に笑顔をつくることを促進する家電のデザインです。その具体例として、今回提案されたのが「笑わないと開かない冷蔵庫」。冷蔵庫の前で笑顔をつくると、扉をスムーズに開けることができます。『ハピネスカウンター』は「2012年度グッドデザイン賞ベスト100 」にも選ばれました。『ハピネスカウンター』についてはこちらを参照ください。
■授賞対象名:  情報課電 ハピネスカウンター
■事業主体名:  ソニーコンピュータサイエンス研究所
■カテゴリー:   A2-2. 生活領域のためのゲーム、ソフトウェア
■プロデューサー: 暦本純一
■ディレクター: 辻田眸
■デザイナー:  石黒祥生、辻田眸、暦本純一
※ 「ハピネスカウンター」は、ソニー株式会社の顔画像認識技術を使用しています。
CSL's research [Hapiness Counter] was awarded the "Good Design Award 2012" and "2012 GOOD DESIGN Best100" from the Japan Institute of Design Promotion.
[Hapiness Counter] is a new digital appliance design that naturally facilitates making smiles in our daily life. Example on display this time is a refrigerator that does not open unless one smiles. For details please see here.
* Award-winning item : Digital Appliances [Happiness Counter]
* Principal implementing business : Sony Computer Science Laboratories, inc.
* Category : Game or Software for life
* Producer : Jun Rekimoto
* Director : Hitomi Tsujita
* Designer : Yoshio Ishiguro, Hitomi Tsujita, Jun Rekimoto
# [Hapiness Counter] uses face recognition technology developed by Sony Corporation.