ソニーコンピュータサイエンス研究所が年金積立金管理運用独立行政法人(GPIF)から受託した調査研究「人工知能(AI)が運用に与える影響について」が、EQ Derivatives社が選定するThe Volatility & Risk Premia Awards 2019において、Academic Research Paper Of The Year - Machine Learning & Big Dataを受賞しました。
---
3月11日に、ニューヨーク市のThe Yale Clubにて授賞式が行われました。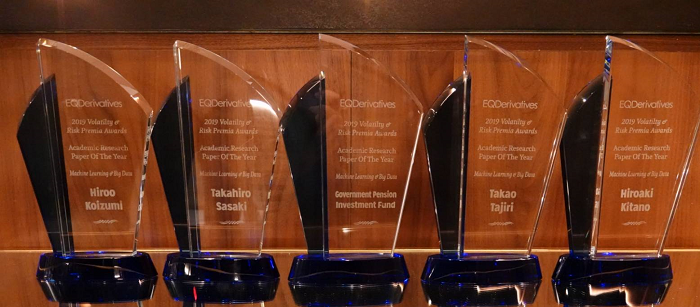 The Volatility & Risk Premia Awards 2019 hosted by EQ Derivatives decided to award the Academic Research Paper Of The Year - Machine Learning & Big Data to Takahiro Sasaki, Hiroo Koizumi, Takao Tajiri, Hiroaki Kitano and Government Pension Investment Fund(GPIF): A Study On The Use Of Artificial Intelligence Within Government Pension Investment Fund's Investment Management Practices.
GPIF selected Sony CSL as a partner to study this issue in 2017.
---
The gala ceremony took place at the Yale Club of New York City on March 11.