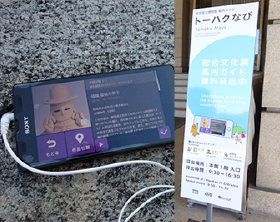 ソニーCSLがコンテンツ制作に協力している東京国立博物館公式ガイドアプリ『トーハクなび』。その最新機能である音声合成エンジンを利用した「今日のオススメ」を体験いただくために、博物館本館入口で端末(スマートフォン、タブレット各10台)の無料貸出が12/14(日)までの期間限定で実施されています(日本語・英語対応)。
ご自身の端末にアプリをダウンロードしてもお楽しみいただけますので、是非、一度、新機能を現地でお楽しみください。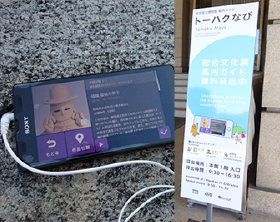 Free rentals of smartphones/tablets are now available at the Tokyo National Museum to experience the new feature added to the museum's official smartphone guide app "Tohaku Navi" (until Dec. 4). The new feature uses speech synthesis engine to create guides for a selection of recommended art works.
You can also download the app to your iOS/Android devices for free, so why not spend some time at the Tokyo National Museum and appreciate the art exhibition? "Tohaku Navi" app will be your guide!
# Sony CSL was involved in preparing contents for this application.