音楽リミックス/マッシュアップサービス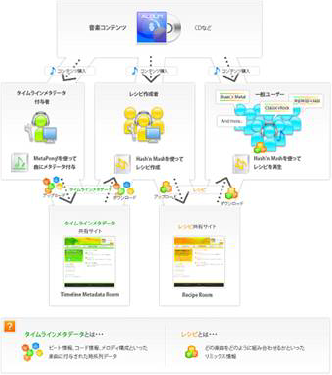 Music Mashroomは、既存の楽曲を使って、簡単に音楽のリミックスやマッシュアップを作成し、それを人と交換できるサービスです。 MetaPong! を使って楽曲につけたタイムラインメタデータがTimeline Metadata Room に蓄積されます。 タイムラインメタデータを利用することでHash'n Mash を使って簡単にリミックスを作成することができます。 作ったリミックスはレシピとして Recipe Room にアップロードして公開することができます。

Hash'n Mash の特徴
音楽知識がいらない
面倒な波形編集を使わない
既存曲を利用したリミックス交換が可能
※2014年2月 サービスを終了しました。
---
タイムラインメタデータとは
タイムラインメタデータとは、特定の楽曲に対してビート位置、メロディ構成(Aメロ、サビなど)、コード進行情報を格納したデータのことです。 MetaPong! で作ったタイムラインメタデータはサーバ上で共有することができ、それを使えば、誰でもHash'n Mash ですぐに利用することが可能です。 公開時 3000曲以上のタイムラインメタデータをサーバに登録してあります。
---
[公開する内容]
音楽リミックスアプリ Hash'n Mash Music Mashroom Image Sample
リミックスレシピ共有サイト Recipe Room
タイムラインメタデータ付与アプリ MetaPong!
タイムラインメタデータ共有サイト Timeline Metadata Room
Music remix-mashup service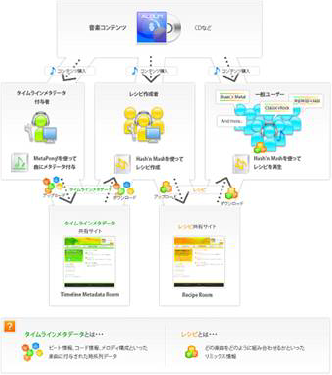 Music Mushroom is a service that enables users to remix and mash up existing pieces of music, then exchange the new versions with other people. The data added to music that is created with MetaPong! can be stored in the Timeline Metadata Room. With Hash'n Mash, a user can easily obtain a remixed version of the stored data. The remixed music can be uploaded into Recipe Room and be made widely accessible.

Features of Hash'n Mash
needs no expert knowledge of music
entails no complex waveform editing
exchanges possibilities for remixing based on existing music
*The service discontinued in February 2014
---
What is Timeline Metadata?
Timeline Metadata is a collection of data connected with certain music — beat positions, melody composition (verse, chorus, etc.) and chord progressions.
Timeline Metadata combined with MetaPong! can be shared on the server. The data becomes readily available to anyone with the use of Hash'n Mash. The size of Timeline Metadata stored in the server is initially equivalent to more than 3,000 pieces of music.
---
[Details of what is published]
Hash'n Mash Music Mashroom Image Sample-- a music remix application
Recipe Room-- a remix recipe sharing site
MetaPong! -- an application for adding Timeline Metadata
Timeline Metadata Room -- a site for sharing Timeline Metadata