未来の演奏表現を生み出す
ビジョン
アスリートを支えるスポーツ科学がアスリートの成績向上や故障の解決を実現したように、音楽家にも演奏技能の熟達支援や故障の解決が必要です。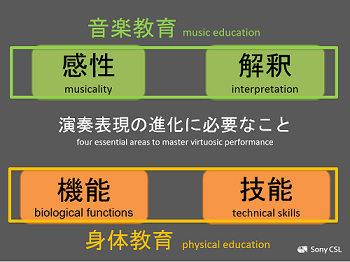 演奏表現には、音楽教育と身体教育が必要です。これらは、感性、解釈、機能、技能の4要素が欠かせません。
感性や解釈は音楽性や音楽理論を中心とした音楽教育において既に活発に研究がなされていますが、音楽家の心身の機能や技能を体得するための身体教育の研究教育基盤は未だ確立されていません。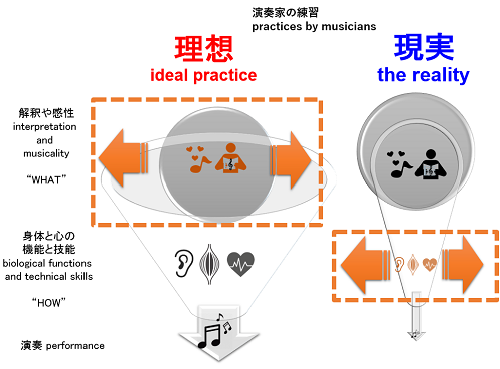 機能や技能の体得といっても、様々な要素や次元があります。例えば、正しく弾くためには、聴覚情報を適切に動きに変換できる機能を育まなければなりません。また、ピアノを弾くときに指を素早く正確に動かすためには、複数の筋肉を協調させることや独立に制御することを効率良く学ぶことが重要です。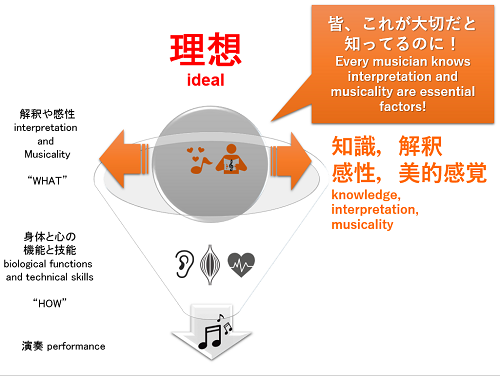 しかしながら、現実にはそのような体系立てられた身体教育が、音楽教育には欠けています。
その結果、音楽家は長時間の練習にもかかわらず心に思い描いた豊かな音楽表現を演奏によって創造できず、演奏できたとしても指導の際に、それを形式知化して次世代に継承することができないことが少なくありません。その上、練習や演奏する過程で身体を痛めてしまう問題が後を絶ちません。
ゴール
音楽演奏科学は、ピアニストの効果的な身体の動かし方や学習過程の研究を通じて、多種多様な演奏表現を身体を痛めることなく創造できる最適なトレーニングや練習方法を確立し、技能の熟達を支援し、故障を解決・予防する新しい学問領域の研究です。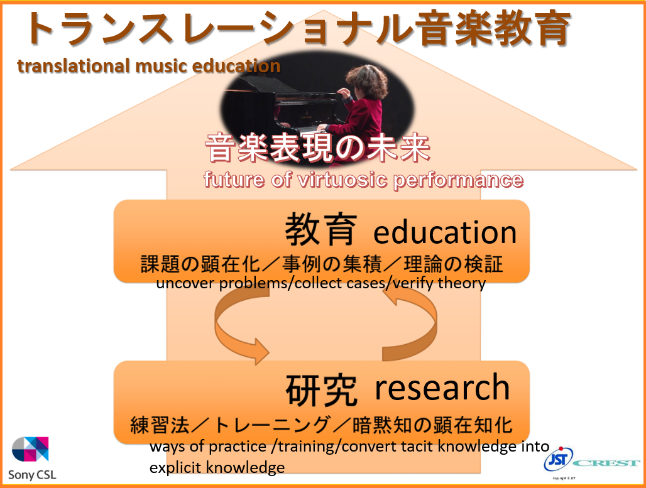 医工芸連携による研究成果は国内外の音楽教育機関に提供し、演奏や指導の現場に還元する「トランスレーショナル音楽教育」を行っています。音楽演奏科学により、音楽家が演奏表現を進化させ、継承していけるような、文化的に成熟した世界を構築することを目指しています。
音楽演奏科学によって表現を拘束していた音楽家の身体が解放されたら、音楽家はどのような素晴らしい表現を新たに生み出すのか、期待されます。音楽演奏を、身体のステージから表現のステージに進めることが、音楽演奏科学の重要なミッションです。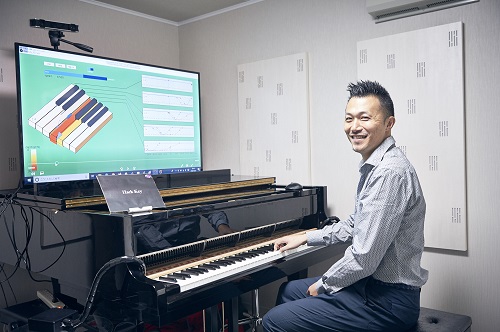 関連プロジェクト:
Creating the musical performances
of the future
Vision
A contrasting situation of musical performance relative to sports is a lack of scientific studies, which limits the ability of musicians to accomplish emotional and virtuosic performance without developing injuries.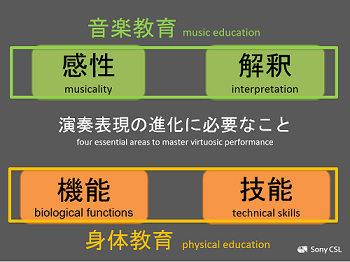 Mastering virtuosic performance requires music education and physical education in four essential areas: musicality, interpretation, biological functions and technical skills.
Traditionally, musicality and interpretation have been covered in many areas of music education and research studies. Biological functions and technical skills associated with virtuosic instrumental performances and training methods, on the other hand, have not been explained sufficiently or studied empirically.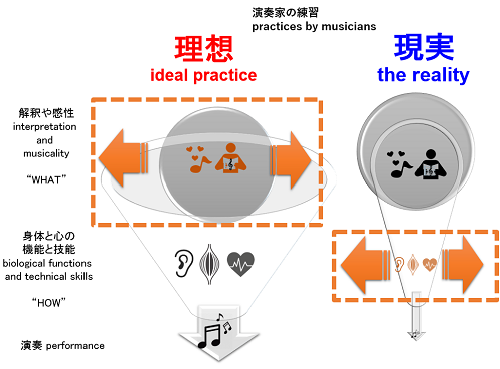 Such functions and skills are characterized by the co-optimization of speed and accuracy of movements, independent and coordinated movement control between the fingers and hands, and the integration of multimodal sensory and motor information in a real-time manner.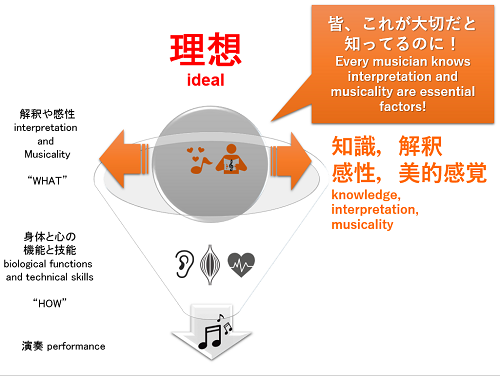 If pianists attempt to acquire those functions and skills through extensive hours and years of deliberate practice, without proper knowledge and methods, they not only lose track of acquiring virtuosity, but also potentially suffer from movement disorders and injuries such as focal dystonia. Even those who successfully acquire virtuosity cannot pass on explicit knowledge and methods to the next generation.
Goal
Science for musicians is an emerging field of translational music research to elucidate mechanisms underlying acquisition and loss of highly-skilled sensorimotor behaviors (i.e. virtuosity) in musicians , and to establish explicit knowledge and optimal practice methods for virtuosity acquisition without developing injuries, based on principles and evidence originating from sensorimotor control and learning research.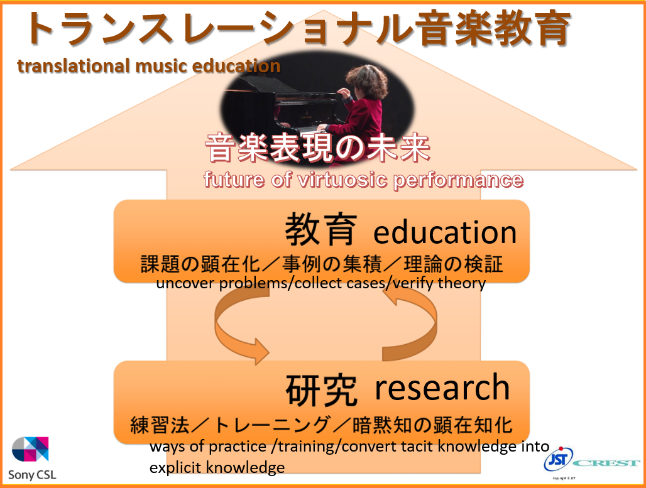 To maximize the potential of the research performed cooperatively within medical science, engineering, and art, research outcomes are fed back to educators and musicians at conservatories and institutions worldwide.
Science for musicians will make it possible for any musician to acquire virtuosity and pass it on to the next generation, granting our world cultural enrichment through the coevolution of an open system comprised of artists, educators, and the audience.
Science for musicians gives musicians the opportunity to express themselves without physical constraints, leading to the creation of wonderful new music. Its major mission is to move musical performance forward, from the body, to expression.
Related Projects:
- The Evaluation of Sensory Motor and Cognitive Functions
- Coordination Skill Learning System for Musicians
- Prevention and Rehabilitation of Musician's Injuries