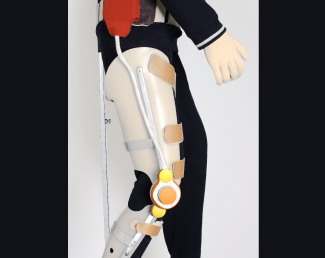 ロボット義足の研究開発で得られる技術を、足がない人のためにとどまらず、すべての人の身体能力にかかわる技術に昇華させる取り組みの一環として行われているのが電動リハビリアシスト装置の開発です。現在リハビリに使用されている装具に取り付けることで膝の動きをアシストします。装置の取り付けも簡単なので、限られたリハビリ時間を有効に活用できます。
リハビリの際には加速度センサを用いて歩行のタイミングを検出することで、接地時には膝の曲がり具合に応じた補助力を生成し膝折れを防ぎ、振り出し時にはトルク制御により関節をフリーにすることで自然な歩行をアシストします。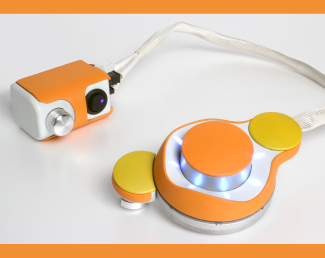 この小型電動リハビリアシスト装置の開発は都内の病院の医師や理学療法士の方々と共に進められています(2014)。将来的には、この装置によって計測される歩行データを共有できるネットワークを構築することも目標とされています。装置を使用する人たち全員で効率の良いリハビリ方法が構築されるだけでなく、同じ境遇の患者さん同士が交流を行える場は、精神的な緩和にも貢献できるかもしれません。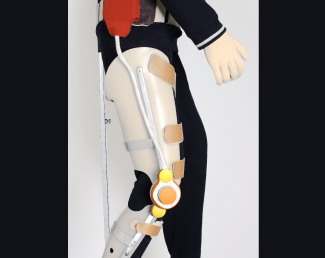 The development of a motor-driven rehabilitation device draws on R&D for robotic leg prostheses, and is part of an effort to make this technology more broadly useful not just for patients with missing legs, but for anyone needing to increase physical strength. By making use of existing equipment, to which it attaches very simply, the device saves its users time—which is precious during a rehabilitation session.
In rehabilitation work, accelerometers in the device are used to detect the timing of walking strides. At the moment when the foot contacts the ground, assistive force in proportion to the bending angle of the knee is generated—this prevents the knee from buckling. Then, when the foot lifts off the ground, torque control frees the joint and allows a power-assisted but natural walking stride.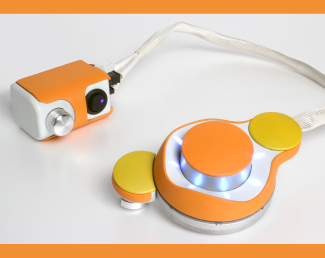 The development of the motor-driven device was carried out in collaboration with doctors and physiotherapists at Tokyo hospitals (2014). In the future, we hope to build a network to share the walking data generated by use of the device. This should aid users in establishing the most efficient ways of employing the device in rehabilitation, as well as provide a forum for patients with similar conditions to connect with and support each other.