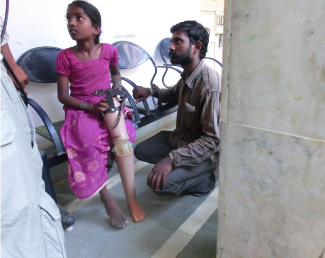 およそ3000円をコストターゲットに開発されているのが、途上国向け義足です。ローカルで調達できる樹脂素材を利用し、ローカルの工場で製造できるビジネスモデルを考えながら進められているのもこの研究開発の特徴です。
研究員の遠藤謙が途上国向け義足の開発に着手したきっかけは、マサチューセッツ工科大学(MIT)博士課程時代にインドのジャイプールフットというNPO(非営利法人)と出会ったことでした。ジャイプールフットは1975年から寄付を元手に義足を制作し、足を失った人に義足を無償提供している団体です。
ジャイプールフットは貧困層を対象に無償で義足を配ることに強い信念を持っています。彼らを通じて義足を配るには、コストを既存品同等の3000円程度に抑えなくてはいけないところから遠藤のインドでのチャレンジがスタートしています。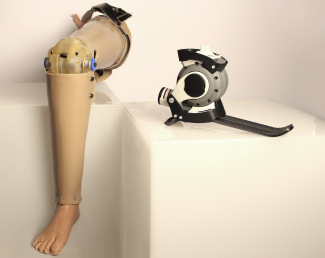 先進国と途上国のものづくりは、技術、素材、人と与えられた環境が全く違います。ただし、その与えられた環境の中でベストなものをつくろうとする姿勢は最先端のロボット義足をつくるのも、3000円の義足をつくるのも、本質は同じです。このような気付きから、遠藤は自分が培ってきたロボット義足の研究を発展国向け義足づくりに応用しようとしています。
一方で、日本の医療保険制度では、保険適用される義足は1足だけ。高額ということもあり、義足ユーザーはたいてい義足を1足しか持っていません。そして、今、使っている義足が壊れたら歩けなくなるという恐怖があり、ユーザーはその使い方に配慮を怠りません。そんな状況下、3000円ぐらいで買える義足があれば、使い捨て感覚で温泉に行ったり、海に行ったりとできるかもしれません。低価格の義足は途上国に限らず、日本のユーザーにも、より行動範囲の広い生活を送ることを可能にするポテンシャルも持っています。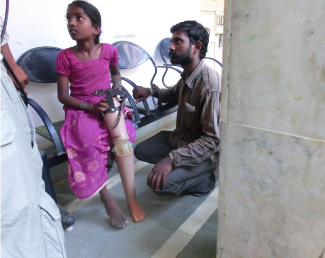 Now under development, with a cost target of around 3,000 yen, is a prosthetic leg aimed at the developing world. The business model, which has been an essential part of the product R&D, allows for the prosthesis to be manufactured in local factories using locally available plastic.
Researcher Ken Endo began developing a prosthetic leg for the developing world when he was working at MIT, after he was introduced to an Indian non-profit called Jaipur Foot. Since 1975, Jaipur Foot has been collecting donations to fund the making of prosthetic legs, supplying them free of charge to the people who need them.
Jaipur Foot is strongly committed to providing free prosthetic legs to the poor. Endo started an effort to create a prosthetic leg as good as those already being distributed that could be manufactured for just 3,000 yen. These prostheses would then be given to India's poor through Jaipur Foot.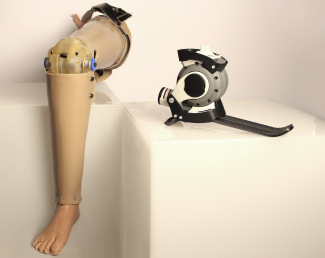 The manufacturing environment in the developing world is totally different from that in the developed world in various ways: technology, materials, workforce. However, the drive to make the best possible product within the constraints of the production environment is the same, whether you are making a state-of-the-art robotic prosthesis or one that costs just 3,000 yen. This realization led Endo to apply the research he had done on robotic prosthetics to an artificial leg suited to the developing world.
Meanwhile, Japan's medical insurance system only covers one artificial leg per missing leg, and prostheses are very expensive to purchase on the open market. In practice, many users of prosthetic legs are unable to keep a backup. They must live with the fear that if their prosthetic leg breaks, they will be unable to walk, and so they use it less. A prosthetic leg costing 3,000 yen, however, can be treated as essentially disposable. People would be empowered to go to onsen resorts, the beach, or other places they would never risk damaging their expensive primary prosthetic. A low-cost prosthetic leg has the potential to enrich the lives not only of people in the developing world, but also of people in Japan.