体外離脱したような第三者視点の生成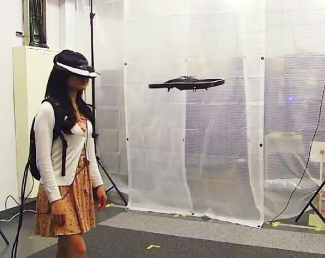 Flying Eyesは自律飛行ヘリコプターによる空中自由視点でのコンテンツ撮影を実現するためのシステムの研究です。小型無人ヘリコプターを撮影プラットフォームにすることで、より容易に利用できる空間的制約に縛られないカメラワークを実現可能とします。

Flying Eyesは、撮影用ヘリコプターと自律撮影機能、カメラワーク指示を出すためのユーザインタフェースから構成されます。撮影対象である人間との位置関係を計測しながら追跡する無人ヘリコプターの自律飛行を実現し、撮影者がおおまかなカメラワークを指示することで自動的にカメラパスを計算します。
自分の後ろ姿を確認しながらランニングするなど、第三者視点を作ることを可能にすることから、スポーツアシスタントなどに応用されることが期待されます。
Flying Headは人間の頭部動作と無人航空機(UAV)を同期する操作メカニズムの研究です。UAVも遠隔操作型ロボットの一種であり、災害地の監視や映像コンテンツ撮影などの分野で運用され始めています。これまでの代表的なUAVの操作デバイスにはR/Cプロポーショナルシステムやジョイスティックがありますが、複数のレバーやボタンを使用して機体を制御しなければならないため、正確な操作には長期の訓練を必要としてきました。
Flying Head研究ではUAV制御の入力操作として、人間の歩く、屈むといった身体動作を採用しています。身体動作を利用することにより、前後左右への移動や回転といった制御パラメータを並列的に決定することができます。UAVのカメラを通して自身の背後を見たり、遠隔地に於いて自ら体外離脱・活動しているように思えることから、新たな人とモノとの関係性(インタラクション)の研究を示唆しています。
本プロジェクトは、東大暦本研との共同プロジェクトです。
(リンク:https://lab.rekimoto.org/projects/flyinghead/)
Telepresence that simulates an out-of-body experience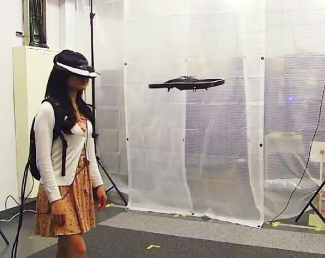 Flying Eyes is a system currently under development that uses an autonomous quadcopter to perform aerial camerawork with unlimited freedom of viewpoint. Using a small quadcopter as a filming platform makes it simpler to create video content without running into spatial constraints on shooting.

Flying Eyes consists of a computer-controlled quadcopter, an automatic camera control system, and a user interface for directing camerawork. The quadcopter monitors the spatial relationship between itself and the subject. It tracks the subject, with computer flight control automatically calculating each camera pass based on general instructions from the operator. One possibility for Flying Eyes is that it could serve as a sort of flying sports assistant, for example enabling runners to watch their form from behind as they run.
Flying Head is a telepresence system currently under development under which an operator can control an unmanned aerial vehicle (UAV) through his physical movements. UAVs are teleoperated robots that are finding a wider and wider range of applications, from disaster area inspection to filming movies. Until now most UAVs were operated using R/C controllers with porportional control systems or joysticks, but the necessity to work multiple levers and buttons necessitates long training to achieve precise flying.
The Flying Head project instead makes of use of body movements such as walking and crouching as UAV control inputs. By using body movements, it is possible to control multiple motion parameters in parallel—forward and back, left and right, rotation. This research offers new forms of interaction between people and machines, such as constantly being able to see behind you, or having telepresence/teleoperation at a remote site.
Flying Eyes is a joint project with the Rekimoto Lab at the Tokyo University.
(Link:https://lab.rekimoto.org/projects/flyinghead/)