一般に電気の遮断時にはアークが発生し危険である。ただし、現在、一般家庭に普及している交流(AC)網では一秒間に100回から120回プラスとマイナスが反転しているので、その反転時にアークは消弧し大きな火花とならず、コンセントからのプラグ引き抜きて危ないとは感じない。同時に、直流(DC)による給電では電流の反転がなくプラグ引き抜き時のアークは大量の火花となって火災になる可能性があるとされている。そして、引き抜き時に恐怖を与えないため、直流プラグの抜き差しでは安全な12V以下もしくは2A以下のアークが発生しない領域で使われている。
ソニーCSLでは電気の遮断時、電圧が12V以上もしくは電流が2A以上ではアークが発生してしまう問題に挑戦し、例えば電圧200V電流7Aの直流でもアークが発生しない遮断技術(ArcFree)を見出した。これは遮断機に必要なアーク引き込み領域を必要とせず、遮断機接点の劣化の軽減や、小型超寿命化も可能とする。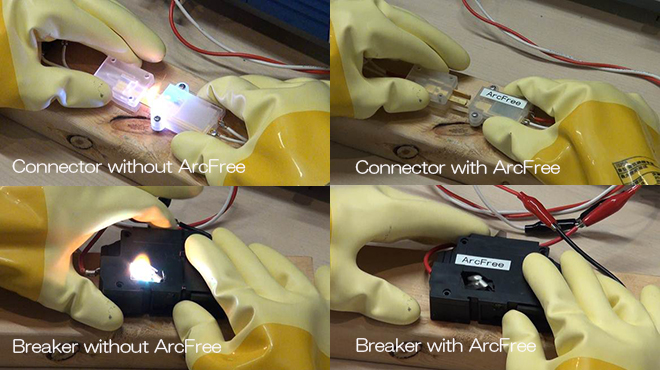 近年、地球温暖化対策を進めるために自然エネルギーの利用が盛んになりつつある。自然エネルギーは発電量の変動が激しく、そのままでは電力としての利用に限界がある。そこで一般的には二次電池を用いて一旦蓄電し、そこから安定した電力を取り出す方式が取られている。
この場合、二次電池からとりだす電力は直流なので家庭ではそのまま利用することができず一旦交流に直してから家庭用電気製品に配電している。一方家庭用電気製品はパソコン、タッチパッド、携帯電話などの情報処理機器はバッテリーを持ち直流で動作し、また最近のテレビ、扇風機、冷蔵庫などは省電力化に向け交流をそのまま利用せず内部で直流に変換し、回転機器を持つものはその後インバータにより緻密な回転制御で大幅な小型化、省力化を実現している。
ArcFree技術は自然エネルギーを直流で蓄電し、直流でそのまま利用する効率良い方法をも可能とする。交流電源の不安定を招く逆潮流をも必要としないため、交流電源への周波数や位相同期も必要なく、自律分散電力融通による地産地消ボトムアップ電力システムの実現にも貢献できると考える。
今後、ソニーCSLではこの技術を発展させ、高電圧・高電流回路遮断の実現と安全性の確保に向けた研究を進めていく予定である。
Generally speaking, when an electric circuit is broken, there is a risk of an electrical arc occurring. However, the electric power infrastructure that's standard in homes today is alternating current (AC), in which the direction of current flow switches 100-120 times per second between plus and minus. Each time this switch happens, any arc is extinguished before it can become a serious spark. This allows, for example, removing plugs from electrical outlets. But a DC power supply has no flipping of current flow, so removing a plug from an outlet can create an arc that generates a lot of sparks—and this in turn can cause fires. To mitigate this fear of sparking, DC plugs are kept below safety thresholds of 12V and 2A, at which arcing will not occur.
Sony CSL is tackling the problem of arcing in DC circuit breaking at voltages above 12V and currents above 2A. We have developed a circuit breaking technology called "ArcFree" that can prevent arcing in circuits operating at, say, 200V and 7A. This eliminates the need to devote space to arc chamber in circuit breakers; reduces erosion of the circuit breaker contacts; and enables components to be made smaller and very long-lasting.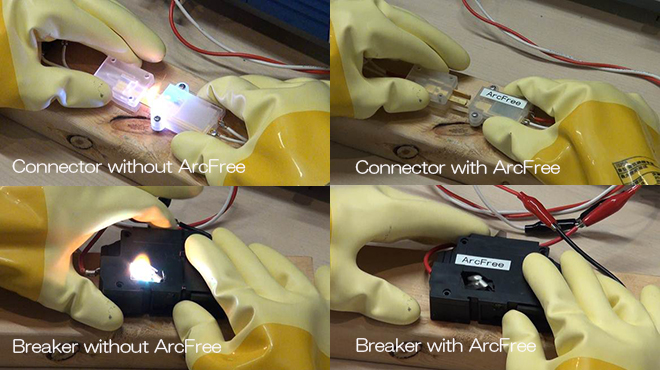 In recent years, due to the desire to arrest global warming, usage of renewable energy has surged. But the power output from renewables is subject to dramatic fluctuation, limiting their usefulness for electric power supply as is. That has spurred a movement toward using rechargeable batteries to temporarily store power and thus stabilize the supply of electricity.
In this setup, the electric power from the rechargeable batteries is DC, which cannot directly supply homes. It must first be converted to AC in order to power home electrical appliances. On the other hand, home electronics such as PCs, tablets, mobile phones and other IT devices have batteries and run off DC. Moreover, some recent models of TVs, fans and air conditioners have also incorporated internal transformers to convert incoming AC power to DC as an energy-saving measure. Appliances with rotating components that operate on DC in this way can use inverters for precise control of RPM to achieve dramatic improvements in space efficiency and energy efficiency.
ArcFree technology makes it possible to store and use renewable energy directly as DC all the way through. This is a more efficient setup. It eliminates the current reverse flow issues that can destabilize AC power grids, as well as the need to synchronize frequency and phase. ArcFree can help bring about the flexibility of autonomous, distributed electric power, enabling the creation of bottom-up electric grids where power is produced and consumed locally.
Sony CSL intends to continue developing this technology and pursuing research toward making high-voltage/high-amperage circuit breaking practical and safe.
ArcFree Technology (English Version) from Sony CSL on Vimeo.