地球上でインターネット環境が十分整備されていない地域でも通信可能としたり、衛星間通信を通して、リアルタイムに衛星と地上をつなぐことなどに期待が寄せられています。
ソニーCSLの「宇宙光通信プロジェクト(SOL Project)」では小型衛星に搭載可能な形状で長距離空間大容量データ通信を可能とするための光通信システムの研究開発を行っています。同システムでは家庭用のCDプレーヤーなどで培ったソニーの光ディスク技術を応用し、精密指向制御技術による衛星間又は地上との大容量データ光通信の実現を目指しています。
長距離空間光通信技術は地球上のリアルタイム情報化社会を支え、将来的には人類の生存圏拡大や宇宙での活動など、世の中を大きく変えていく可能性があります。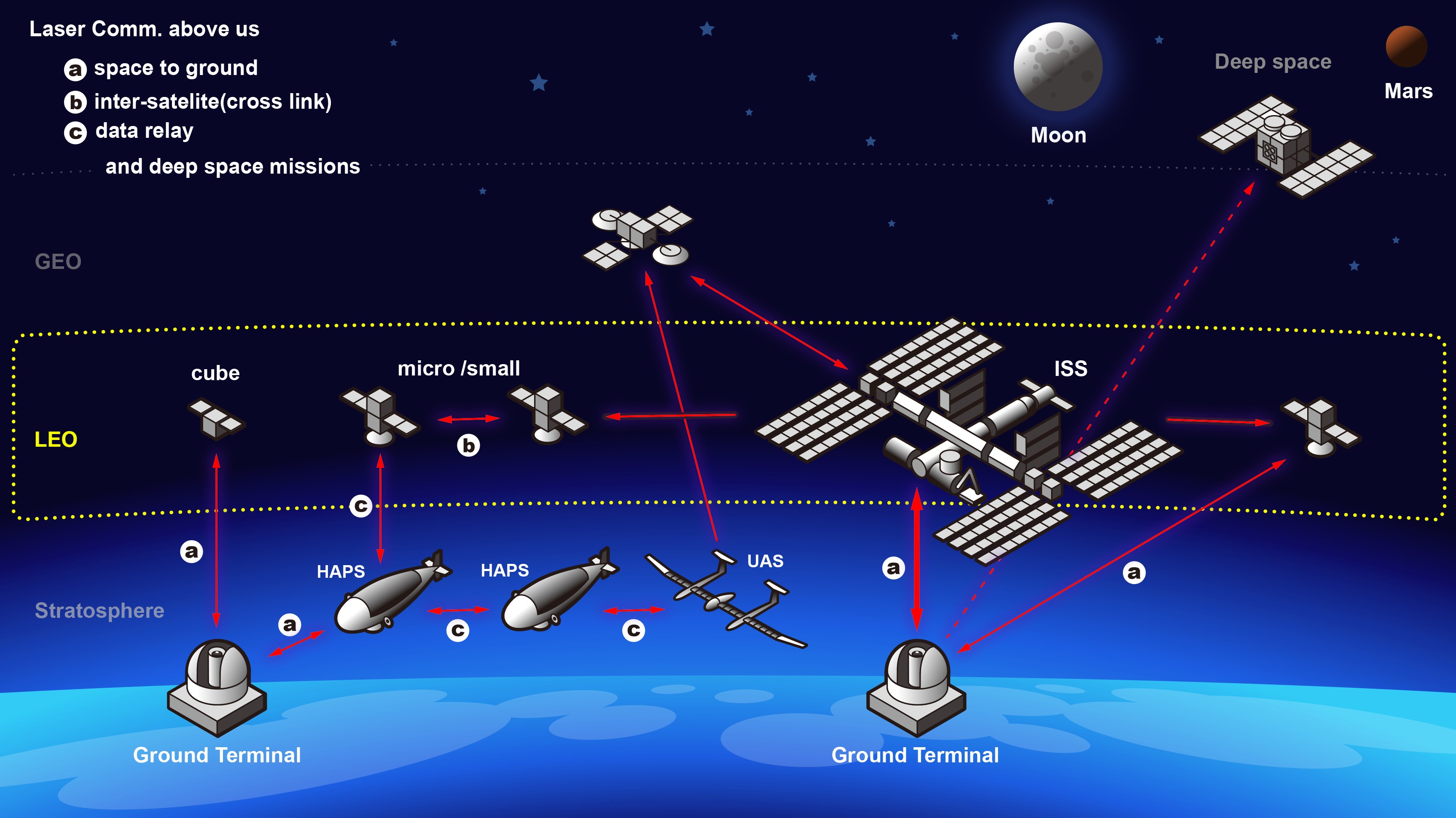 SOLプロジェクト概念図
小型衛星光通信システム(Small Optical Link for ISS: SOLISS)
SOLISSはソニーとJAXA宇宙探査イノベーションハブとの共同研究による基盤技術に基づいて、ソニーCSLとJAXA宇宙探査イノベーションハブが軌道上技術実証のために共同開発した小型衛星光通信システムです。
2019年9月25日に打ち上げられた、宇宙ステーション補給機「こうのとり」8号機で国際宇宙ステーション(ISS)へ送り届けられ、「きぼう」日本実験棟の船外実験プラットフォーム(中型曝露実験アダプター(i-SEEP))に設置されました。現在、光通信の試験が実施されています。
| | |
| --- | --- |
| | |
| 左:SOLISSシステムFM(フライトモデル) | 右:SOLISSシステムFM概要図 |
SOLISSに搭載されているモニタカメラで撮像された地球の映像(ISS経由で地上に送信)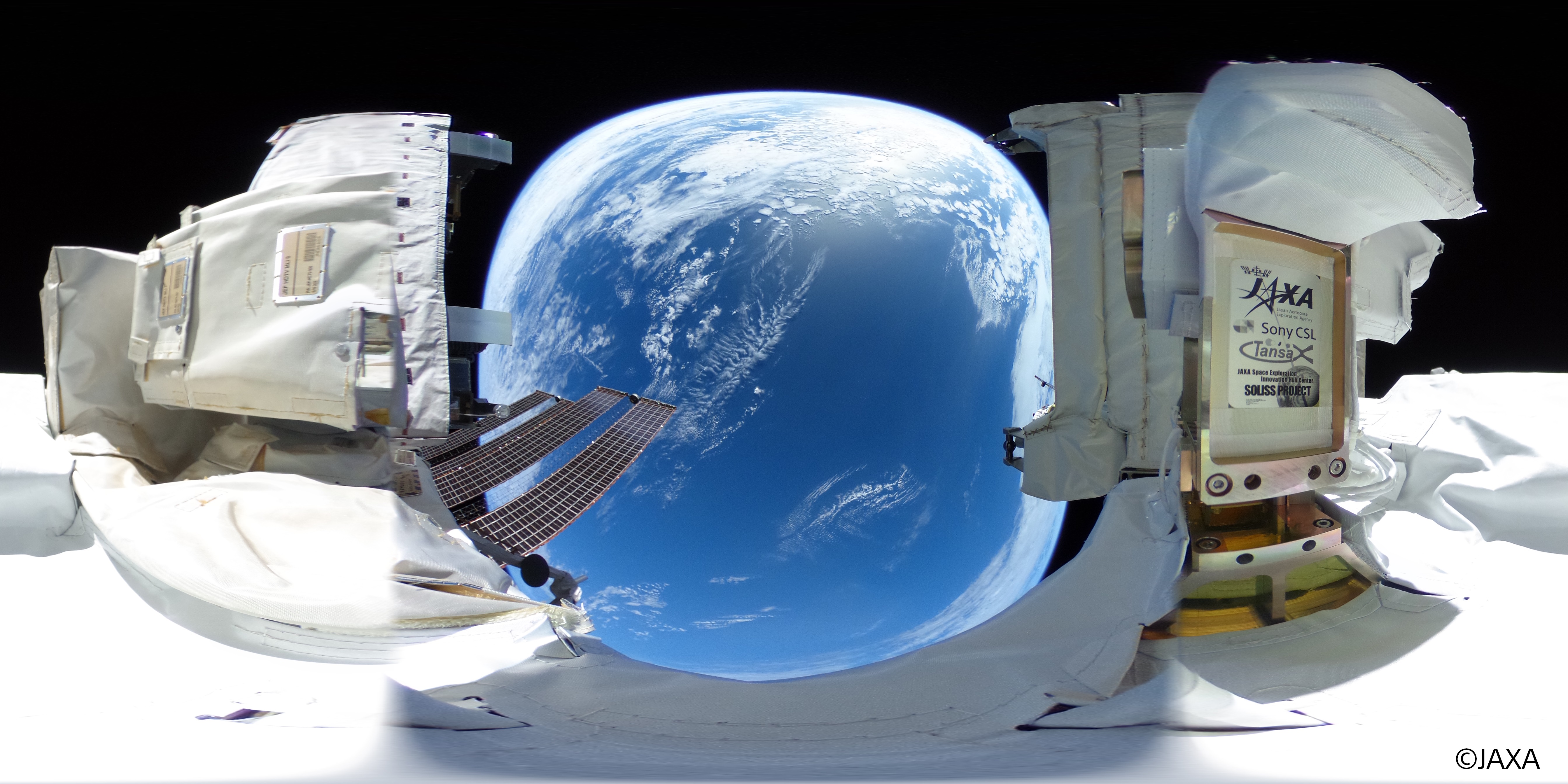 【関連リンク】
宇宙探査イノベーションハブ(360°全天球静止画・動画を撮影・公開)
http://www.ihub-tansa.jaxa.jp/theta_photo.html
Multiple plans are starting to emerge in order to utilize satellites to create full-fledged internet networks. There are rising expectations on services that would allow regions of the world that do not yet have internet connections to have access to the Net, and also on the real-time connection between satellites and the ground.
The Small Optical Link Project (SOL Project) at Sony CSL is conducting R&D into an optical communications system that would be installed on small satellites to transmit large volumes of data over long distances. This system utilizes the optical disk technology that Sony has employed in household devices such as CD players. The goal of the project is to establish a real-time, mass-data communication system for future inter-satellite communications and communications with ground stations with this fine-pointing control technology.
The long-distance optical communications technology will help to create a society where all people have access to real-time information, and it could spur even great changes to our world in the future, allowing us to live in new places or carry out new activities in space.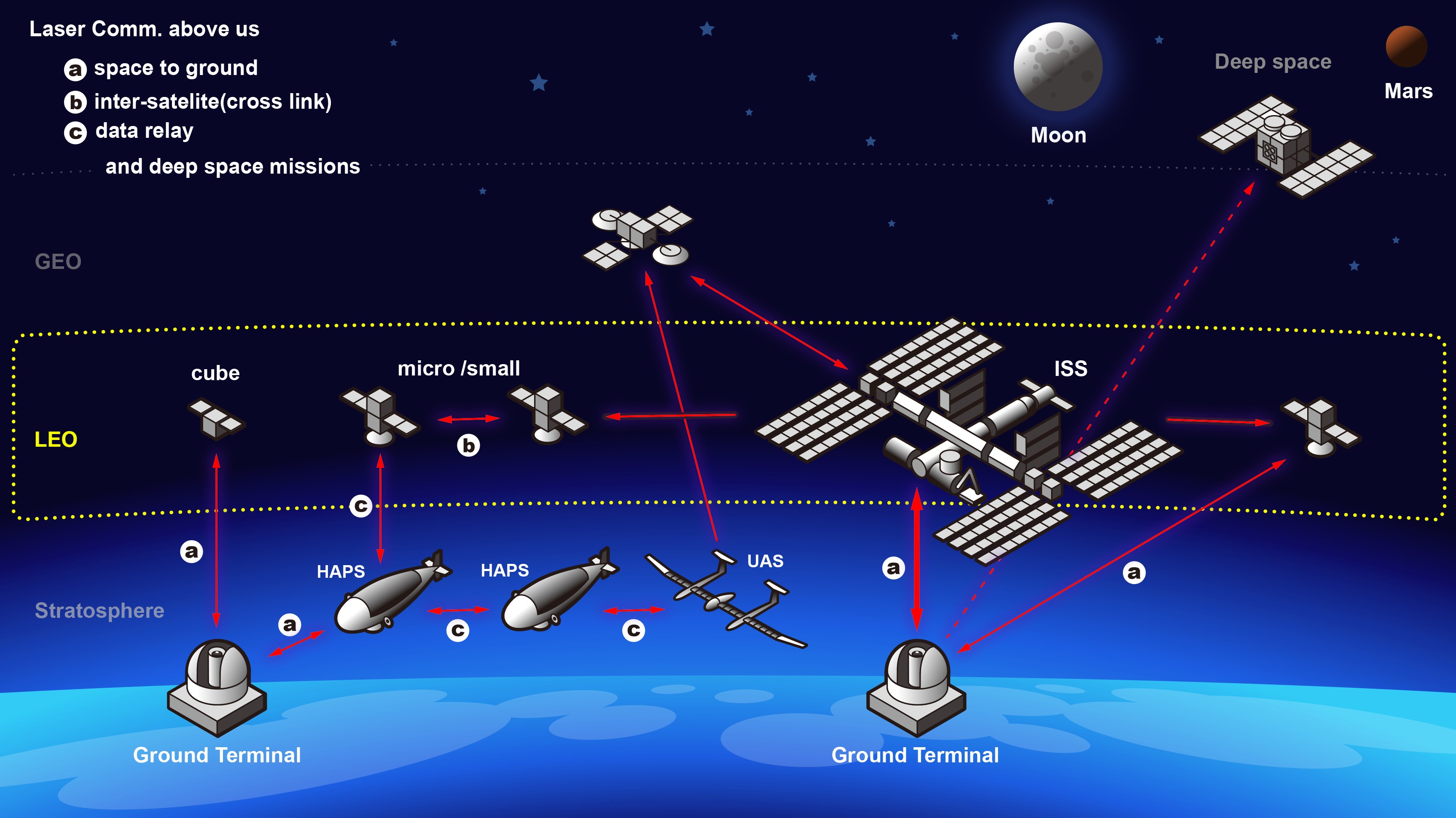 SOL Project concept
Small Optical Link for the International Space Station (SOLISS)
The Small Optical Link for the International Space Station (SOLISS) is a joint project based on fundamental research conducted by Sony and the Japan Aerospace Exploration Agency (JAXA). It is a small-satellite optical link system developed jointly by Sony CSL and the JAXA Space Exploration Innovation Hub Center in order to conduct in-orbit demonstrations of the long-distance laser communication system.
On September 25, 2019, SOLISS was carried aboard the H-II Transfer Vehicle (HTV8) "KOUNOTORI-8", the cargo transporter to the International Space Station (ISS). The system has been attached to the IVA-replaceable Small Exposed Experiment Platform (i-SEEP) hardware adapter installed on the Japanese Experiment Module (JEM) "Kibo". The in-orbit optical communication experiments are underway.
| | |
| --- | --- |
| | |
| SOLISS system flight model | SOLISS system flight model overview |
Image of the Earth taken from the monitor camera on SOLISS (sent to the ground via ISS)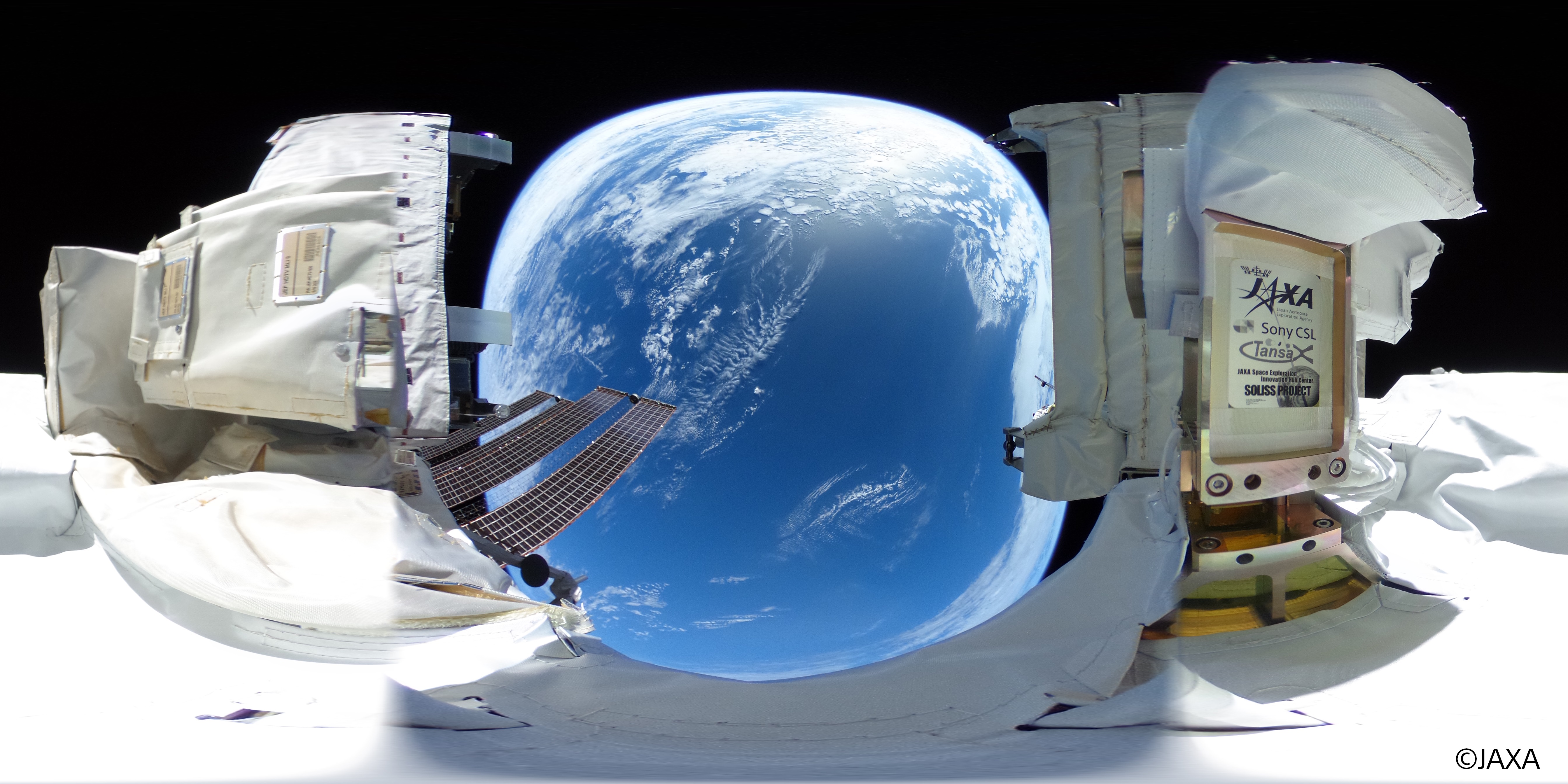 [Related Link]
JAXA Space Exploration Innovation Hub Center (360˚ Spherical Still and Video Images)
http://www.ihub-tansa.jaxa.jp/english/theta_photo_en.html