Tokyo, Japan - Sony Computer Science Laboratories, Inc. (Headquarters: Shinagawa-ku, Tokyo; President and CEO Hiroaki Kitano; hereinafter referred to as Sony CSL) announced today the launch of a service based on its AI-assisted music production project, Flow Machines (FM). The first track created using the service has already been released on "Tokyo LosT Tracks - Sakurachill," a Lo-Fi Beats channel combining animation and songs started by Sony Music Labels Inc.
Sony CSL has been conducting music research since 1996 in Paris. In 2012, it launched FM as a research and development and social implementation project looking to expand the creativity of music-makers. The project is currently underway in Tokyo and Paris. The project leverages state-of-the-art machine learning and signal processing technology to empower artists to create new music in various styles. At the core of FM is the AI-assisted music production tool, Flow Machines Professional (FM Pro). FM Pro combines music rules generated by analyzing a variety of music with advanced software technology to help creators to freely create various styles of melodies based on their own concepts. FM Pro delivers an integration of human creativity and AI-based music, where creators select distinctive melodies proposed by AI according to their own aesthetic sense as they produce music.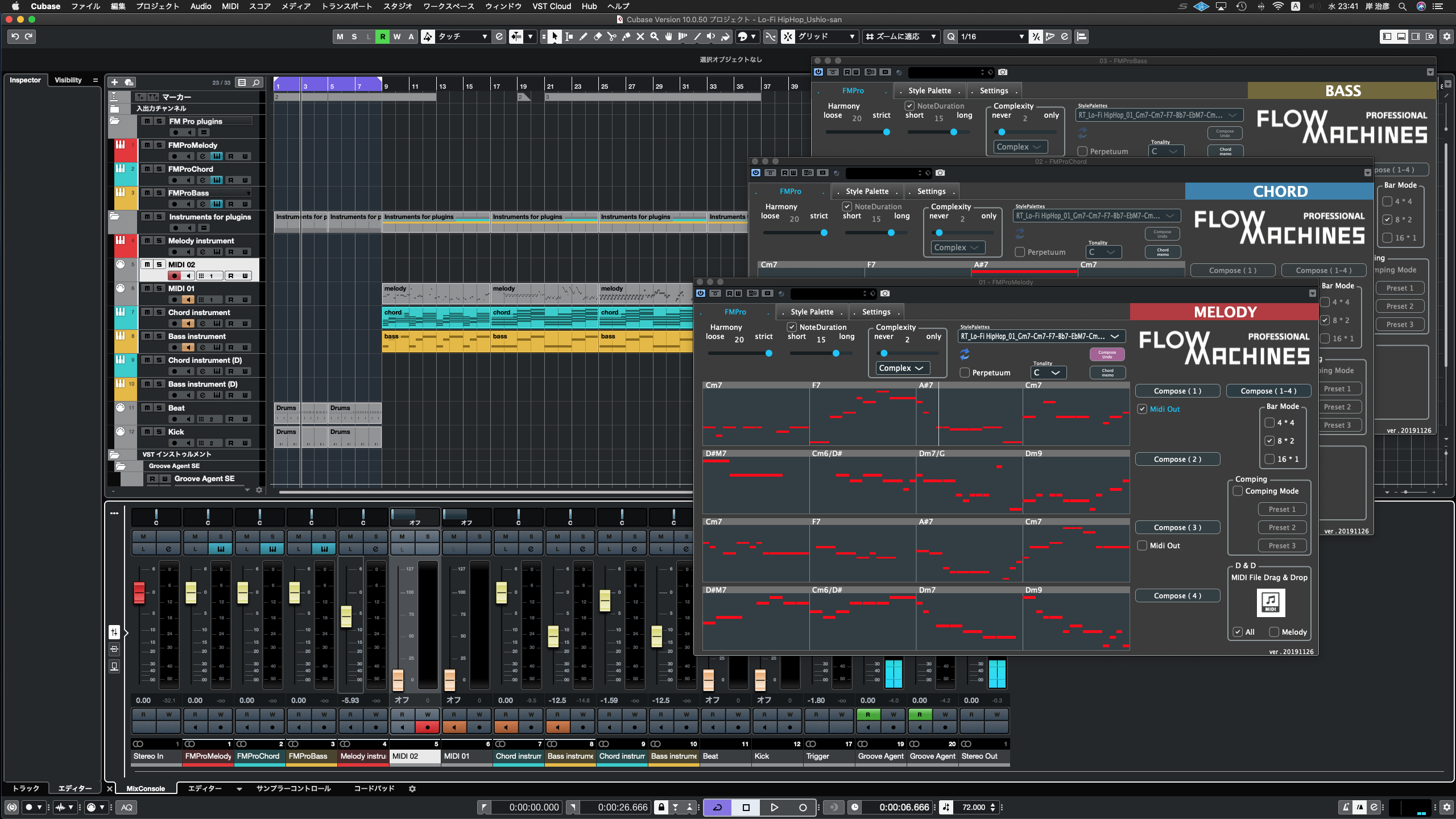 Flow Machines running inside Cubase (DAW)
FM Pro Features
Generally, the process of creating a song includes composing, lyric writing, arranging, playing, mixing and mastering. FM Pro leverages AI dedicated to the composing process to propose melodies, chords, and bass that match the style of music that the creator intends to make. FM Pro employs a unique concept called Style Palette to express the style of the song. Style Palette is a machine learning model that analyzes music data developed by Sony CSL.
How FM Pro works
First, the user launches the FM Pro plug-in within a digital audio workstation (DAW),※ and selects a style palette according to the chord progression of the song they want to create. When they press the compose button, the AI will present multiple candidates (4 bars x 4 patterns or 8 bars x 2 patterns of melodies with accompanying chords and bass) according to the selected chord progression. Each time the user presses the compose button, they get new candidates. They can do this as often as they like. There is also a function to combine bars from multiple patterns one by one. Once they have created something they like, the user simply drags and drops it onto a track in the DAW, and then they will be able to use the music performance information directly as MIDI data. Because it is MIDI data, the user can easily adjust it later.
There is no need to make the whole song with FM Pro. For example, there are many creators who choose to use the ideas from FM Pro to obtain a hook-line and then compose verse and bridge themselves, inspired by the hook-line.
In recent years, in music production, the method of co-writing, in which creators make use of their specialty fields, such as melodies, tracks, arrangements, and lyrics, has increased. FM Pro offers a new type of co-writing that combines human creativity with AI music, allowing creators to select distinctive melodies proposed by AI based on their own aesthetic sense.
About Lo-Fi Beats
Instrumental music composed of rough beats with a vinyl-style sound. People enjoy it mainly for background music when studying and working. Playlists are available on YouTube and Spotify. About 10,000 people are accessing these tracks at any given time on YouTubeLive.
About Tokyo LosT Tracks - Sakurachill
A music project focusing on animation and music created by Sony Music Labels. This project develops videos with a distinctive chill-out world that go with Lo-Fi Beats music.
Published on YouTube, Spotify, and other platforms.
Distribution start: March 21, 2020
※A digital audio workstation (DAW) is a software used to produce music with a computer.
It allows editing of MIDI information for multiple instruments, and extension of functions using plug-ins.
---
Media inquiries:Corporate Communications, Sony Computer Science Laboratories, Inc.
csl-pr@csl.sony.co.jp