Sony Computer Science Laboratories, Inc. (Headquarters: Shinagawa-ku, Tokyo; President and CEO Hiroaki Kitano; hereinafter referred to as Sony CSL) will today officially open its second branch office in Europe, Sony CSL Rome.
The Rome branch is Sony CSL's 4th location for research following Tokyo, Paris and most recently Kyoto, and the activity of Sony CSL Rome will be dedicated to research in the field of information, sustainability and to the intersection between artificial intelligence and art. Sony CSL Rome is located in the prestigious Enrico Fermi Study and Research Center, situated in the historic building of "I Ragazzi di Via Panisperna". The new laboratory was born thanks to a scientific agreement with the "Enrico Fermi" Research Centre (hereinafter referred to as CREF) and represents a unique public-private effort.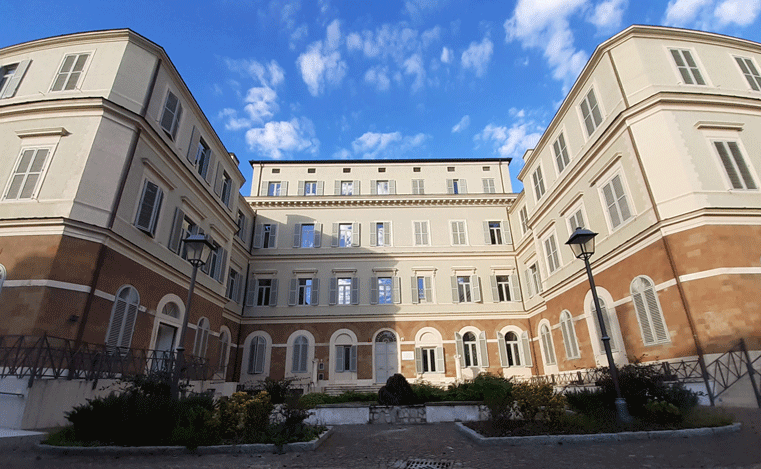 Image courtesy of CREF
The establishment of Sony CSL Rome was announced at Maker Faire Rome in October 2021 and after the long stop due to the pandemic, the new office's inauguration event will be held physically today. Inviting local and national institutions and representatives of the world of entrepreneurship and innovation, this represents an opportunity to present the new laboratory and its potential synergies with the surrounding ecosystem.
Sony CSL is a leading-edge laboratory dedicated to research that contributes to the common social good. The extreme flexibility and multidisciplinarity of the approach, adopted in the four offices of Tokyo, Kyoto, Paris and Rome, allows it to explore the most diverse research areas, combining science, technological innovation, art and the public good in a single conceptual space. The specific themes range from music to language, from the future of cities to sustainable agriculture, from creative processes to humanity's great challenges.
The new lab in Rome focuses on three main research areas:
Infosphere, aiming to redesign information technology to make information more accessible and online social dialogue more transparent, understandable and healthy.
Sustainable Cities, aiming to develop new tools for understanding urban environments and creating predictive scenarios to make them more sustainable to improve living conditions of its citizens.
Augmented Creativity, exploring how AI can grasp the complexity of open-ended systems, support creativity and arts, and help people find original, brilliant, innovative and practical solutions.
Vittorio Loreto, PhD, Director of Sony CSL Paris and Rome, affirms: "Opening a new research lab in Rome strongly signifies Sony CSL's expectation for Italy as a rich reservoir of excellence and creativity. The focus of the new lab on the Sustainable Development Goals and its new public-private format represents a unique opportunity to foster the establishment of a transdisciplinary community of researchers, policy-makers and stakeholders devoted to addressing challenging problems with a transformative eye."
Hiroaki Kitano, Ph.D., President and CEO, Sony CSL highlights: "Sony CSL is a "Dispersive Organization" that embraces change and is constantly challenging for the future of humanity and this planet. Now that we can connect with the world wherever we are, we see more liberation from the constraints of physical location, while the acquisition of new perspectives and interactions that can only come from being physically at a given location is becoming increasingly important as well. With the opening of the new centre in Rome, we hope that activities will develop in greater diversity, resonating and interacting with the existing centres and the possible collaborators."
Overview of the New Laboratory
Sony Computer Science Laboratories, Rome branch (Sony CSL Rome)
Location: Enrico Fermi Study and Research Center, Via Panisperna, 89A, 00184 Roma RM, Italy
Website: https://csl.sony.it/
Establishment: October 2021
---
Media inquiries:Corporate Communications, Sony Computer Science Laboratories, Inc.
csl-pr@csl.sony.co.jp