はじめに
地球環境の変動は、深刻さを増しており、不可逆的な気候の遷移を意味するClimate Departureの議論すらされています[1] 。さらに、2019年末からの新型コロナウイルスの蔓延は、パンデミックとなり多くの国で長期間のロックダウンが行われるなど経済活動は大幅に制限されました。しかし、これほどの経済活動の制限をもってしても気候変動の抑制への効果は極めて限定的であり、単なる量的な抑制ではなく、質的な産業構造、特にエネルギー需給構造の変革が必須であるとの認識が広まっています[2, 3, 4, ]。
ソニーコンピュータサイエンス研究所(ソニーCSL)では、分散型で拡張可能性が高く、さらに災害等に対するレジリエンスで優れているマイクログリッドという電力システムの研究開発を進めてきました。マイクログリッドとは、太陽光発電などの再生可能エネルギーを始めとする分散電源を活用することで、温室効果ガス排出量を抑制するとともに、一定の地域で使用する電力を地域内で発電、蓄電、配電することで、送配電距離を最小化し、さらに、分散自律型であることにより自然災害等の影響を最小化するレジリエンス(強じん性)の高い電力システムです。Open Energy System(OES)は、このようなマイクログリッドの利点を最大限位活かすために、直流型(DC)のP2P(ピアツーピア)自律電力融通技術を核とした一連の技術体系を確立し、沖縄科学技術大学院大学(OIST)での実証研究を行ってきました。OISTにおける実証研究は、2020年3月に終了し、5年間の安定運用を実績から実用レベルに達しつつあると判断しました。
同時に、今回のパンデミックによる経済活動の抑制をもってしても気候変動を抑制することが困難であるという事実を目にした時、この技術をオープンソースという形で公開し、その普及を加速するべきという結論に至りました。その第一弾として、その中核モジュールである自律型電力融通制御ソフトウェア Autonomous Power Interchange System(APIS) の技術を2020年12月1日に無償公開することに致しました(プレスリリース)。
持続可能な電力システムの構築
OESは、再生可能エネルギーの導入量を増やすとともに、拡張性が高く、災害等に対するレジリエンスの高いマイクログリッドとして開発されました。その中核は、分散型の電力システムを相互接続しIoT制御により自動で電力バランスを調整する自律型電力融通技術です。
オープンソースで公開する技術
今回オープンソースで提供するソフトウェアは二つの機能 を持っています。
1つ目はPC上でマイクログリッド内の電力融通をエミュレーションする機能です。本ソフトウェアを用いることで、マイクログリッド導入を検討するにあたり、様々なパラメータにおける電力融通の動作検証を行うことができます。
2つ目は、マイクログリッドを構築する実バッテリシステムを制御する機能です。本ソフトウェアと各バッテリシステムに対応したデバイスドライバを準備することで、実バッテリシステムで下記特長を持つマイクログリッドを構築することができます。
レジリエンスの向上
各ユニットがバッテリシステムを持ち自立動作可能
再生可能エネルギーのさらなる導入
各ユニットのバッテリの電力配分を自動で調整しマイクログリッド内の再生可能エネルギーの発電量の最大化、外部からの購入電力の最小化が可能
マイクログリッドの構築・拡張が容易
接続するバッテリシステムの規模に制限はなく、後からマイクログリッドに容易にユニットを追加可能
また、本ソフトウェアを活用して頂く際には、技術サポートを実施することも予定しています。
要素技術
●Physical Peer to Peer (PP2P) 電力融通
定電流制御によりバッテリー間での定量の電力融通を行い、一定のルールに従いバッテリー間の電力バランスの調整を実現。電圧制御では難しかった特定ユーザ(バッテリー)間での定量の電力融通を実施することが可能となり、必要な電力量と電力価格を条件としたユーザ間のPP2P電力取引を実現することができます。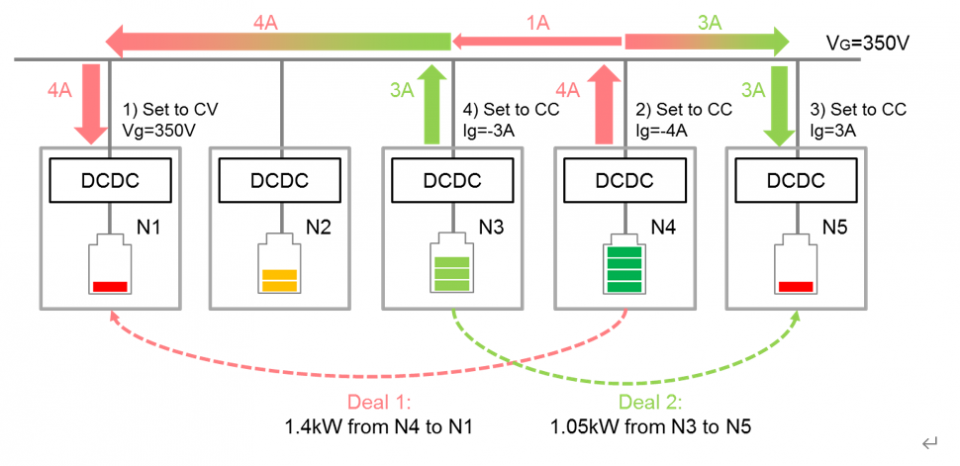 ●自律分散協調制御
各バッテリシステムに同一機能を持つソフトウェアを設置し、ソフトウェアが各バッテリシステムの取引条件 (時間帯、電力量、電力価格など) に合わせた電力融通を実施します。バッテリシステムごとの自由な電力融通の条件設定が可能で、また条件を時間帯ごとのダイナミックに変えることができる柔軟な電力取引システムです。

---
2020年には 新型コロナウイルス感染症(COVID-19)の対策として経済活動が大きく制限されましたが、それでも温室効果ガスの削減量は限定的かつ一時的です[2, 3, 4]。各国が目指しているカーボンニュートラルを達成するためには、さらなる抜本的かつ継続的な温室効果ガスの削減が求められています。ソニーCSLでは、こういった地球規模の社会問題に対して、様々なステークホルダーが一体となった取組を行うための技術および開発環境を提供し、サステナブル社会の発展へ貢献していくことを目指します。

[1] Mora, C., Frazier, A. G., Longman, R. J. et al., "The projected timing of climate departure from recent variability," Nature, 502, 183-187, 2013.
https://www.nature.com/articles/nature12540

[2] Quéré, C. L., Jackson, R. B., Jones, M. W. et al., "Temporary reduction in daily global CO2 emissions during the COVID-19 forced confinement," Nature Climate Change, vol. 10, 647-653, Jul. 2020.
https://www.nature.com/articles/s41558-020-0797-x

[3] Forster, P.M., Forster, H.I., Evans, M.J. et al., "Current and future global climate impacts resulting from COVID-19, " Nature Climate Change, vol. 10, 913–919, Aug. 2020.
https://www.nature.com/articles/s41558-020-0883-0#Sec5

[4] "Coronavirus: Green recovery 'could prevent 0.3C' of warming by 2050"
https://www.carbonbrief.org/coronavirus-green-recovery-could-prevent-0-3c-of-warming-by-2050
Introduction
Global environmental changes are increasing in severity, and there is even discussion of Climate Departure, which means an irreversible climate transition [1]. Furthermore, the spread of the new coronavirus from the end of 2019 has become a pandemic, with many countries going into a long-term lockdown, and economic activities have been greatly restricted. However, even with these restrictions on economic activities, the effect on climate change is very limited and there is a widespread recognition that qualitative changes are essential, rather than mere quantitative controls, in the industrial structure, especially in the structure of energy supply and demand[2, 3, 4]
.
Sony CSL have been researching and developing the microgrid, a power system that is decentralized, scalable, and moreover resilient to disasters. A microgrid utilizes decentralized, renewable energy sources, including solar and others, to generate, store and distribute power for use by a specific area while reducing greenhouse gas emissions. In addition, this is a highly resilient power system that is decentralized and autonomous, minimizing the distance over which power must be distributed and the impact of physical damage wrought by natural disasters. In order to maximize the benefits of the microgrid, Open Energy System (OES) has established a series of technology systems centered on direct current (DC) physical peer-to-peer (P2P) autonomous power integration technology, and has been conducting demonstration research at the Okinawa Institute of Science and Technology (OIST). The demonstration research at OIST was completed in March 2020, and based on the results of five years of stable operation, it was judged that the system was reaching a practical level.
At the same time, the fact that it is difficult to control climate change, even by limiting economic activities due to this pandemic, led us to the conclusion that this technology should be made available in open source form to accelerate its diffusion. On December 1, 2020, Sony CSL made its Autonomous Power Interchange System (APIS) - the power interchange management software they develop, as open source. (Press Release)
Creating a Sustainable Power System
OES was developed as a microgrids that will increase the adoption of renewable energy, and that are highly scalable and highly resilient to disaster. At its core, it is an autonomous power sharing system which allows distributed power systems to be interconnected and automatically adjust the power balance through IoT control.
What technologies did Sony CSL open-source?
The software that Sony CSL have now made open source has two important abilities.
The first is that it allows you to emulate the power interchange of a microgrid on your PC. If you are considering the adoption of microgrid technology, by using this software you can perform operation verification of power interchange under various parameters.
The second is the ability to control the actual battery systems that make up a microgrid. By setting up the software with the device drivers for each battery system, you can build a flexible microgrid with actual batteries that offers the following features.
Increased Resilience
Each unit has its own battery system, and can operate independently
Increased Adoption of Renewable Energy
Power distribution to each unit's battery is regulated automatically, maximizing renewable energy generated within the microgrid, and minimizing power purchased from external sources
Microgrids: Easy to Build & Easy to Scale
No limit to the scale of battery system you can connect, and units can easily be added to the grid later
Also, we plan to offer technical support to the people using this software.
Constituent Technologies
●Physical Peer-to-Peer (PP2P) Power Interchange
Achieves fixed quantities of power interchange between batteries through constant current control. Sends only the necessary amount of power according to certain rule. Allows fixed quantities of power interchange between specific users (batteries), which was difficult using voltage control, making it possible to perform PP2P power interchange: the trading of needed quantities and monetary amounts of power between users.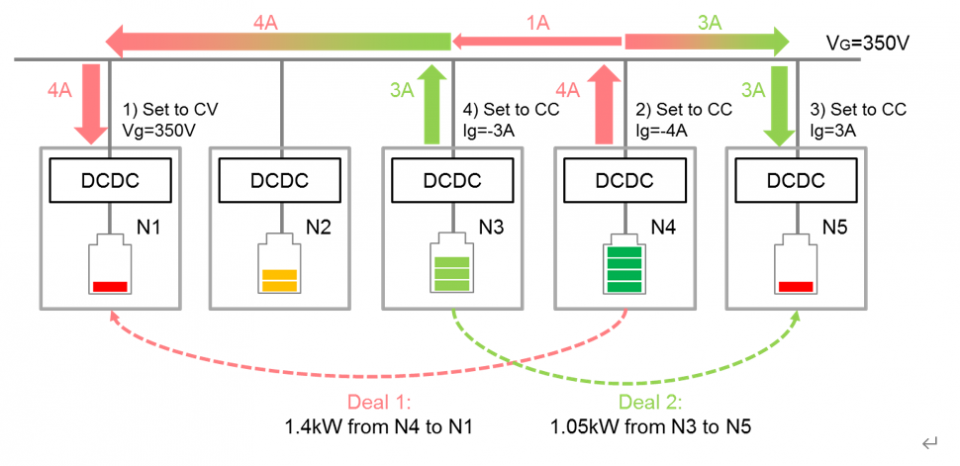 ●Autonomous, Decentralized & Coordinated Control
Software with the same functionality is installed in each battery, and then this software determines power interchange between each battery system in accordance with agreed upon terms of trade (time slot, quantity, price, etc.). A flexible power trading system where you are free to set the power interchange terms for each battery, and to change those terms on the fly for each time slot.

---
In 2020, economic activity was significantly slowed to prevent the spread of COVID-19, but the resulting reduction in greenhouse gas emissions will be temporary [2, 3, 4]. If countries are to achieve carbon neutrality, further radical and continuing reductions of greenhouse gas emissions will be required. Sony CSL aims to contribute to the development of a sustainable society by offering technologies and creative environments for various stakeholders to come together and address the issues facing global society.

[1] Mora, C., Frazier, A. G., Longman, R. J. et al., "The projected timing of climate departure from recent variability," Nature, 502, 183-187, 2013.
https://www.nature.com/articles/nature12540

[2] Quéré, C. L., Jackson, R. B., Jones, M. W. et al., "Temporary reduction in daily global CO2 emissions during the COVID-19 forced confinement," Nature Climate Change, vol. 10, 647-653, Jul. 2020.
https://www.nature.com/articles/s41558-020-0797-x

[3] Forster, P.M., Forster, H.I., Evans, M.J. et al., "Current and future global climate impacts resulting from COVID-19, " Nature Climate Change, vol. 10, 913–919, Aug. 2020.
https://www.nature.com/articles/s41558-020-0883-0#Sec5

[4] "Coronavirus: Green recovery 'could prevent 0.3C' of warming by 2050"
https://www.carbonbrief.org/coronavirus-green-recovery-could-prevent-0-3c-of-warming-by-2050