Sony Computer Science Laboratories, Inc. (hereinafter referred to as Sony CSL) announced today the launch of an AI-assisted music production app, Flow Machines, in Europe*.
To expand the creativity of music makers with AI, Sony CSL has been conducting the Flow Machines project since 2012. In 2019, Sony CSL launched Flow Machines Professional (FM Pro), a plugin for use in a digital audio workstation (DAW). This technology has been used within the Sony Group by assisting creators to produce numerous pieces of music. Flow Machines, the new application for Mac and iPad, is a cloud-based AI music production tool compatible with a wide range of DAW plugins.
Flow Machines website: https://www.flow-machines.com/
Download Flow Machines: https://apps.apple.com/us/app/flow-machines/id1495767411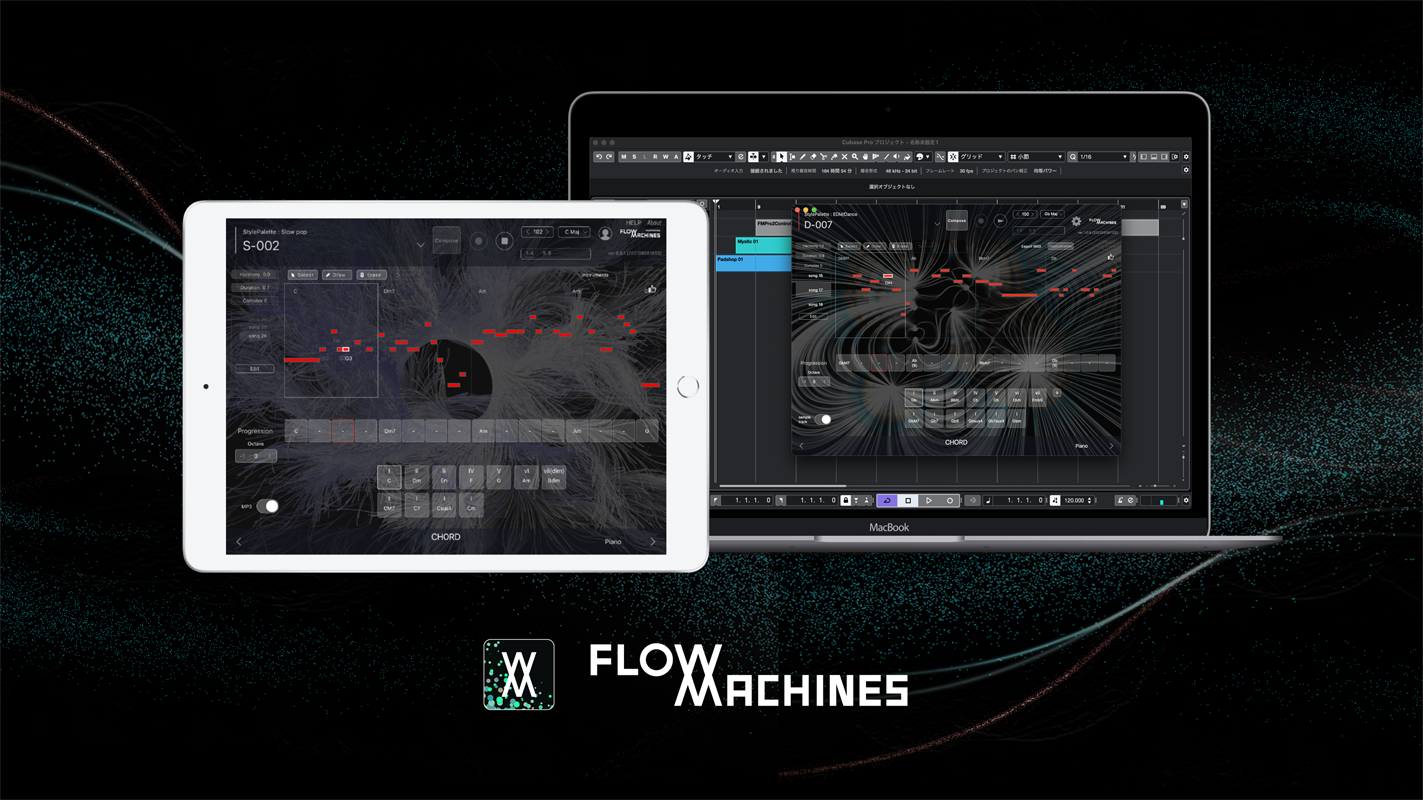 Flow Machines Features
Flow Machines is an app that assists the creator's music production process, with an AI that suggests melodies, chords and basslines in the creator's chosen style. To bring the creator's style to life, Flow Machines features a unique concept called Style Palette, which includes a machine-learning model that analyzes musical data. You can choose from the various preset palettes created by Sony CSL, or create your own original Style Palette right in the app. This allows the AI to generate melodies that inspire new ideas, while preserving your own distinct style.

Screenshots of Flow Machines:
(Left) Composing using the app (Right) Selecting Style Palette
How Flow Machines works
In the Flow Machines app, users select a Style Palette that matches the genre and the chord progession of the song image they want to create. When they press the compose button, the AI will generate 8-bar melodies according to the selected chord progression. There are parameters such as note duration and melodic complexity, which allow users to have the AI generate suggested melodies that matches their intention. Users can easily export their melodies on Flow Machines as a MIDI file to their DAW.
*The European countries where Flow Machines will be launched are: Austria, Belgium, France, Germany, Italy, Luxembourg, the Netherlands, Poland, Spain, Sweden, and United Kingdom
iPad and Mac are registered trademarks of Apple Inc.
Flow Machines is a trademark of Sony CSL.
About Sony CSL Music team:
Sony CSL is a fundamental research laboratory whose "Music and Artificial Intelligence" team, based in Tokyo and Paris, has a strong artist-centric vision: Tomorrow's production tools should stimulate creators' imagination, and offer new possibilities for interaction while fitting in the modern production process. Working hand in hand with Sony-affiliated musicians and content creators, they develop a new generation of music production tools based on Artificial Intelligence that will extend the scope of musicians' capabilities and push the boundaries of creativity.
---
Media inquiries:Corporate Communications, Sony Computer Science Laboratories, Inc.
csl-pr@csl.sony.co.jp