「Cybernetic Humanity」のプロジェクトページが公開されました。
「Cybernetic Humanity」は、笠原研究員が提唱する、人とコンピュータが融合することで生み出される"新たな人間性"に着目し、コンピュータ科学と人間科学の両側面からのアプローチを通じて探究を試みる新たな研究領域です。
これまで笠原研究員は人間の存在や能力の根源である知覚に対して、コンピュータ技術を用いて工学的に知覚を拡張・変容させることで実現する知覚をSuperception(Super「超:通常状態を超える、個体を超えた集合体、メタ」+ perception「知覚」を合わせることによって生み出した造語)として提唱し、研究を行ってきました。
この枠をさらに超えた研究領域を「Cybernetic Humanity」として定義し、テクノロジーによる知覚と能力の拡張(Superception)のための研究開発、拡張がもたらす主観性(Subjectivity)の解明と設計、それら拡張技術と主観性が実装された社会像(Society)について探究していきます。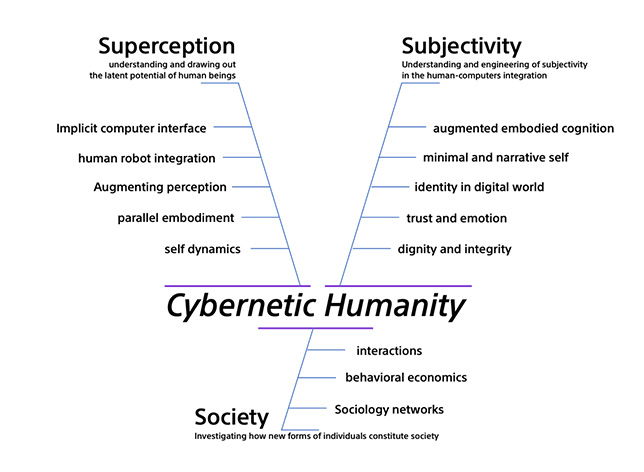 The project page for "Cybernetic Humanity" is now available.
Cybernetic Humanity is a new research field that focuses on the "new humanity" emerged from the integration of humans and computers, and explores it through approaches from both computer science and human science, advocated by Dr. Shunichi Kasahara.
Dr. Kasahara has proposed and conducted research on Superception (a term coined by combining Super + Perception), which uses computer technology to engineer and transform perception, the root of human existence and capabilities.
Beyond this framework, Cybernetic Humanity focuses on the following three domains. Research and development of augmentation of perception and ability (Superception) by means of technology, elucidation and design of subjectivity enabled by the technology, and exploration of the social image in which these augmentation technologies and subjectivity are implemented.